Fall 2004
A Costume Ball to Remember
St. Clement Banquet Hall on Overlea Blvd. was the scene of a colourful Costume Ball held by Zamboanga Hermosa Canada to mark its 18th anniversary last October 23.
Some guests were dressed in Halloween costumes with weird and scary masks, while others came in costumes of fantasyland and native costumes from other lands. Some Zamboangueños chose the Muslim costume, complete with trappings. The winners in the costume contest were Angelica and Phil Donkers for best costumed pair, Jessica Noone and Isidore Molina for most artistic, Ann Nibloc and Jung Aberilla for most original.
Among the highlights of the evening was a fascinating Yakan dance from Basilan's Muslim tribe, which was superbly performed by Sheila Cañizares. A guest performer was Pons Canonizado, a popular singer in the community.
But one very lucky lady stole the limelight from all. To everybody's amazement, Jessica Enriquez Noone, who had come from far away Vancouver with her husband Joseph to attend the event, won not only the most artistic costume, but also a door prize and two raffle prizes – a total of four valuable prizes in all, including a round trip ticket to Las Vegas from Imperial Travel. However, the first prize in the raffle draw, a DVD-Karaoke, was won by Belinda Ying.
The fundraising event was for the benefit of seven college scholars in Zamboanga City that the association is sponsoring. Donated prizes in the raffle came from Zamboanga Hermosa Canada, Imperial Travel by Norma Carpio, Dr. Collin Hong, Nu-Skin by Cris and Jung Aberilla, Belle Optical by Belle Tumbokon, Dr. Vicky Santiago, Linda's Wellness Gems, Ed and Jackie Rueda, and Johnson Company by Sabrina Egan. Other donors, mainly the ZHC Executive Board and committee members, provided the door prizes.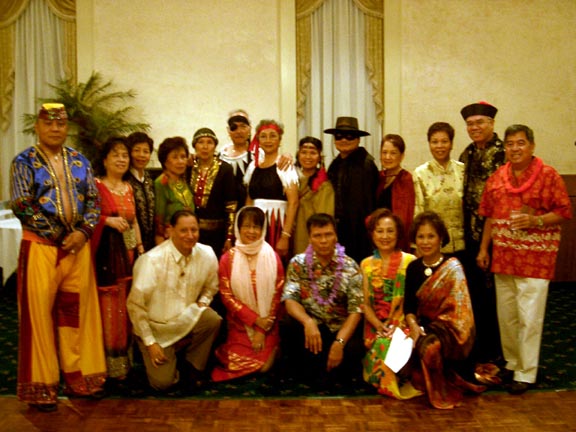 Costume-clad revellers take time out for a photo at the Zamboanga Hermosa Canada colourful Costume Ball held at St. Clement Banquet Hall on Overlea Blvd. last October 23. Front row: Ram Khosla, Corazon Saavedra, Ben Bernardo, Cecile Kolmegies, Nenita Laviña. Second row: Alberto Saavedra, Susie Khosla, Lolita Ordinaria, Minda Nery, Aida D'Orazio, Oscar and Floridel Manuel, Cris and Jung Aberilla, Lelet Bernardo, Violeta and Dick Fernandez, Art de Vera.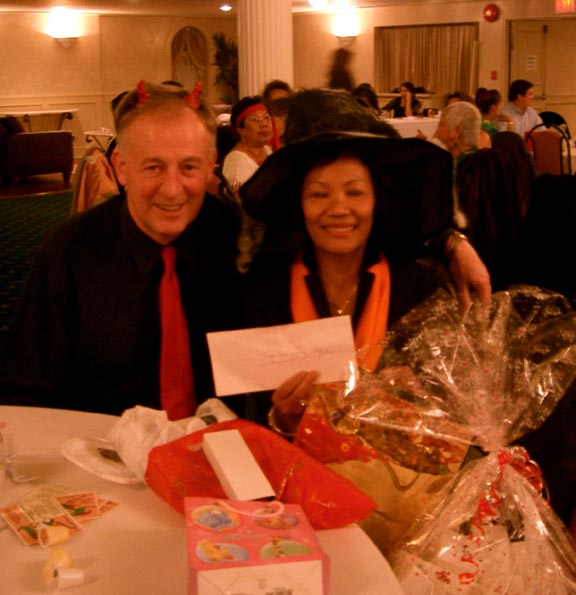 The luckiest guest at the Costume Ball was Jessica Enriquez Noone who won four prizes: the most artistic costume, a door prize plus two raffle draws that included a round trip ticket to Las Vegas, courtesy of Imperial Travel. She and her husband Joseph, residents of Vancouver, had flown to Toronto to attend the ZHC ball.
Newcomer Sheila Cañizares gave a superb performance with her Yakan Dance.
~ o ~
Summer 2004
Zambo-Ontarians to celebrate Fiesta Pilar
Once again as in the past years, Zamboangueños in Ontario will celebrate their home city's Fiesta Pilar, which falls on October 12.

It will start with a 9-day novena to be held at different homes wherever the image of Nuestra Sra. Del Pilar will be requested to stay.

Nuestra Sra. Del Pilar

As the feast day will fall on a Tuesday, the decision to hold the Fiesta Pilar Mass on the 16th of October, a Saturday, at 2:00 p.m. is to enable everyone to attend it.

The Mass will be celebrated at Sts. Peter and Paul Church on 4070 Central Parkway East, Mississauga. It will be followed with a potluck merienda-sena to be held in the Church Hall. All Zamboangueños are invited to attend with their families and friends. Please contact Gloria Concepcion at 905- 279-1470 or Aida D'Orazio at 416-544-0438 for further information.

Costume Ball to mark ZHC milestone

It will be a costume ball to mark Zamboanga Hermosa Canada's 18th anniversary, which will be celebrated at St. Clement's Banquet Hall, 76 Overlea Blvd. (Don Mills), on the 23rd of October, at 6:30 p.m.

Proceeds from the dinner-dance will help provide the educational funding for the ZHC's seven scholars in Zamboanga City and Basilan.

Tickets are now available. Cost of ticket is $35. Everyone is requested to attend in costume. There will be door prizes and prizes for the best costume.

~ o ~
A donation for the needy

ZHC sends medical packs to Basilan

Art de Vera (left), who heads the Zamboanga Hermosa Canada Medical Mission to Basilan City, shakes hands with Basilan Mayor Luis Biel after delivering four large boxes of medicine and medical supplies to the Isabela City Medical Center. Looking on are Dr. Rafael Cabug, City Health Officer, and Onofre Griño, president and CEO, Menzi Philippines.

Through the efforts of Zamboanga Hermosa Canada president Aida D'Orazio and on recommendation by Filipino Centre Toronto president Lynda Javier, the boxes were obtained in partnership with the Health Partners International of Canada, a charitable, Canadian medical relief organization dedicated to providing medical aid to peoples of the developing world. The ZHC had to pay a fee of $1,100 to the HPIC. Next year, ZHC hopes that a similar project can also be carried out for the barrios in Zamboanga City.

~ o ~
Local ADZ grads greet ADZ prexy

By Voltaire de Leon

In the midst of the All Ateneo Alumni Convention held at the Marriott Hotel earlier this July, which culminated with a Gala Night and a picnic the following day, the Ateneo de Zamboanga alumni organized a community meeting with Fr. Bill Kreutz, S.J., in the morning of July 10 at Tucana Court in Mississauga.

Attending the meeting were also many graduates from other schools, including a group from Chicago. There was a contingent from Zamboanga Hermosa Canada led by Aiding D'Orazio who helped defray expenses, Sylvia Tallud of Superb Travel who paid the rent and a group of other Zamboangueños who served up a hefty potluck lunch.

It was 11 a.m. when we started. Fr. Bill celebrated mass. I had met him earlier at the Marriott Hotel for the first time, and my first impression of the president of Ateneo de Zamboanga University was of a man with boundless energy and enthusiasm for his mission. Because there were only about 30 of us at Tucana Court's Rec Hall, the mass felt closer, more intimate and meaningful in stark contrast to a mass held in the massive interior of a city church where you sit among strangers.

A slide show was presented after the mass and lunch. This was of course the reason why we got together. Fr. Bill had visited a few times before to raise interest (and money) for the Ateneo de Zamboanga educational programs. The fun part was seeing the familiar faces of people, now staffing the Ateneo – men and women whose work is to educate generation after generation of Zamboangueños. With Fr. Bill's compañero, Shing Balatbat, doing the narration over the slides, the images connected us to the project that we could be involved in: scholarships.

We learned that the Ateneo scholars, once they became employed, pooled a percentage of their salary to give back to the Ateneo Scholarship Fund without anyone asking them. They just did this on their own initiative.

Interesting highlights from the meeting:

® This year a new College of Science and Information Technology was created to house the departments of Computer Engineering, Computer Science and Natural Science.

® The Zamboanga Medical School Foundation is now the Ateneo de Zamboanga University School of Medicine.

® 50,000 pesos will pay one year full tuition and fees for one student.

® Last year, the AAA British Columbia put in 30,000 pesos. The Zamboanga Hermosa Club of Southern California contributed 51,650 pesos. The Ateneans USA – Chicago Chapter donated 137,500 pesos.

® The Ateneo de Zamboanga University produces topnotch graduates whose averages in national board/bar exams, for example, far exceeds those from other universities and the national.

If you want to donate directly, write a cheque to Philippine Jesuit Foundation with a note 'For Ateneo de Zamboanga University.' Mail it to Ms. Christina Tabora, Philippine Jesuit Foundation, 130 Beekman Street, Ste# 4-A, New York, NY 10038, USA.

~ o ~
There's no place like home…

By Vincent Paul "VP" A. Elago

It's five o'clock in the morning and, as always, I'm suddenly awakened by the "campanas" (bells) of the old Tetuan Church which is just right behind our home. On this day as the bells chime, I find myself thinking how lucky I am to be residing here in Zamboanga City, Philippines, instead of elsewhere in the vast world.

Here we get to see the sea and the mountains every day. For a leisurely getaway, there's the pink sandy beach of Santa Cruz Island, La Vista del Mar and other beaches or the sprawling green hills of Pasonanca Park. There seems to be nothing too distant in this place. Almost everything is accessible within ten minutes from shopping centers, churches, government offices, schools, hospitals, restaurants and banks.

We may not have buses, trains or subways within the city, but we have the colorful jeeps and the reliable tricycles that will take you right at your doorsteps. Often, a chatty driver entertains you with the latest gossips in town, or you may meet up with friends on the way to the "pueblo" (downtown).

True enough when I was younger, I dreamt of living abroad especially in the U.S.A. or Canada where everything seemed so cool on television and movies. I thought of these countries as meccas of freedom and opportunities, and as places where one's dreams can come true. Indeed for many of my relatives and friends, they did come true.

Why haven't I followed their footsteps? Why didn't I grab the opportunities offered to me several times to live abroad? Perhaps if I did, by this time I would be living quite comfortably in a mansion and maybe even own a Jaguar or a Porsche. Wow! That would have been a nice life! But there are things in this world that are much too precious to leave behind.

I like living on Crispin Atilano Street (formerly J.D. Cruz street) where most of my neighbors are my relatives. Because of our close proximity to each other's homes, there seems to be no distinction between 1st, 2nd or 3rd degree cousins. Where gatherings are called reunions, here it's a normal happening. Almost everyday we bump into each other and get to share pleasantries and even "chismis". You'll be surprised at the speed news and gossips travel here.

There's never a lonely day in this community except when there's a death among us. Considering that I have more than 300 1st and 2nd degree relatives from my father's side alone makes news of death, birth, marriage, separation, etc., a common occurrence. There's a lot of sharing and camaraderie among us that, sadly, has lost its meaning in the rest of the world.

Although we try to keep Zamboanga's glorious past by preserving our historical landmarks and edifices, on the other hand, it's heartening to see new developments mushrooming around town. Among these are new malls, much improved hospitals, hotels, high-standard universities, resorts, convention centers, huge coliseums, good restaurants and several hi-tech disco houses that can accommodate as much as a thousand people each. The once rocky and dusty roads leading to the west and east coasts of the city are now world-class highways after it had been recently expanded and paved with concrete.

Home sweet home, that's what Zamboanga really is – a place uniquely famous for the Chavacano-speaking people, the Muslim presence, beautiful women and hospitality of its citizens. I feel so lucky to be here. Indeed there's no place like home.

~ o ~
2003 AWARDEES

Recipients of awards at the ZHC's Fiesta Pilar celebration last October 2003, were Herb and Cecile Kolmegies (1st and and 4th from left) for dedication and service; Sally Barrera , widow of the late Elpidio "Boy" Barrera who was the ZHC auditor, a posthumous award, and Mike Saavedra for leadership and support. Dr. Vicky Santiago (right) presented the awards. Connie Schwartz, not in picture, also received an award for dedication and service.

~ o ~
MEMORIES to last a lifetime

Travels, birthdays, anniversaries, reunions …

Dick and Violeta (Arat) Fernandez celebrate their 35th wedding anniversary in Russia during a Baltic cruise.

Enjoying England while on a pilgrimage are Oscar and Floridel (Aranez) Manuel with Perla Reyes (center).

Aida D'Orazio visits Zambo friends Titang Montinola and Fely Silang while in Manila in May...

All smile for the camera after a meeting at Ramon Barrios' home.

Cheers for Ram and Baby (Portuito) Khosla as they celebrate their 29th wedding anniversary.

Chita Bonilla Cameron (left) entertains Elvira Bucoy Szalai, Cecile Jimenea Kolmegies, Aiding Elago D'Orazio and Caling Zamorano James at her lovely garden.

The joy of motherhood for Gia Alfaro Schuck and for Abby Pantaleon Chan – a boy called Josh for Gia and husband Teddy and a girl called Mariella for Abby and husband Eduard.

A reason to celebrate – getting older and living it well - as Cecile Kolmegies and Caling Zamorano blow their birthday candles while well wishers look on.

~ o ~
No toys but there's food…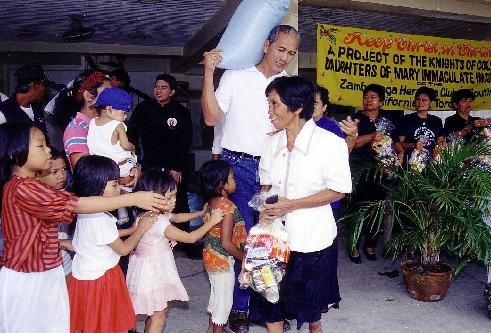 When the Knights of Columbus in Tetuan wrote Zamboanga Hermosa Canada last year requesting a donation to help bring cheer to the needy kids (mostly from the nearby barrios), the association managed to give only $200. Yet, it made a world of difference to the hundreds of children who lined up to receive rice and canned goods at Christmastime.
~ o ~
Other Zamboanga and Mindanao Links
Dapitan