ZHC Spring Dance
Zamboanga Hermosa Canada's Spring Dance will be held on April 5 at the South Common Community Centre on 2233 South Millway, in Mississauga, at 7 p.m.
According to ZHC president Aida D'Orazio, the semi-formal dinner-dance is for the benefit of its Medical Mission to impoverished barrios in Basilan and Zamboanga. Past president Art de Vera and adviser Ramon Barrios, co-chair of the Medical Mission, plan to leave for Zamboanga shortly after the event to deliver the $20,000 worth of medicines, vaccines and medical supplies to the health centres there.
Highlight of the dinner-dance will be the selection of the Spring Princess from the young beauties present. The winner will be crowned the new Spring Princess by Michelle Miguel, ZHC's '91 Spring Princess.
There will be attractive door prizes and raffle prizes, donated by Eastview Travel Agency, Compact Technologies (Ed Rueda) and NuSkin (Cris Aberilla). For entertainment, there will be a dance presentation and song numbers.
Co-chairing the event are Art de Vera and Connie Schwartz. Other committees formed are: Ticket Control – Pilar de Vera, Vilma Clemente, Greg Verar, Cris Guimba, Perla Reyes and Marie James; Reception – Connie Schwartz, Art de Vera, Cecile Kolmegies, Maribel Azcarraga, Chong Saavedra; Decoration – Bebet Saavedra, Ben Bernardo; Tony Miguel; Entertainment – Aida D'Orazio, Cris Aberilla, Cecile Kolmegies; Door Prizes – Sylvia Tallud, Perla Reyes, Nenita Lavina; Bar – Herb Kolmegies, Dolf Pinlac; Dinner Stubs – Lelet Bernardo, Gia Schuck, Violeta Fernandez;; Raffles – Art de Vera, Dick Fernandez; Ben Bernardo, Maribel Azcarraga, May Ruiz; Program and Publicity – Aida D'Orazio; Emcee – Ben Bernardo and Marie James.
---
Christmas in Zamboanga
While we shivered in the frigid temperatures in Canada, vacationer Celina Marcos Dizon was enjoying the balmy weather in Zamboanga City at Christmas time, partying with relatives and friends and gallivanting around the beautifully lit city festooned with colourful festive lanterns.
Upon her return to Edmonton, Alberta, Celina scanned and e-mailed to El Mensajero the photos published below. She had this to say about her vacation:
"I'm sending some pictures of our Christmas in Zamboanga. These pictures were taken Christmas day during the Atilano get-together and at the same time it was Glory's (Atilano) b-day, held at her place. The children enjoyed the musical numbers presented by the different families. Titang Araneta was doing an almost Hula number with the rest of the Aranetas but the pic turned out too dark. Everyone had a wonderful time especially the children as the Santa Clauses were quite generous especially Vinnie (Atilano). Zamboanga City was quiet. No bombings or even a threat. The whole city even the barrios were all lighted up. The city hall building, Plaza Pershing, Pasonanca Park and just about all the houses had Christmas lights. The whole city celebrated the spirit of Christmas."
Don't you wish you were also back home spending Christmas with friends and family?
| | |
| --- | --- |
| | |
| | Celina Dizon, left, enjoys the company of Mrs. Leonila Uro Climaco, Fely Tee King Silang, Nelida Fernandez Atilano, Ping Saavedra, Nena Saavedra, Gloria Atilano (birthday celebrant) and Chita Feliciano. |
| | |
| --- | --- |
| | |
| | Former City Mayor Vinnie Atilano (standing) chats with Sonie Bucoy, Tessie Atilano, Celina Marcos, Dr. Ronnie Bucoy, Edgar and Jean Atilano. |
| | |
| --- | --- |
| | |
| | Vincent and Betty Elago (seated) are shown with two visiting daughters, Angel Teodoro and Margie Pamaran, son Mathew and niece Chona Llenado and their grandkids. Also in the picture is Melly Necesito (centre). |
---
Outstanding student marks 18th birthday
Celeste Diamos, shown with her parents, Rey and Helen (Chan) Diamos, of Brampton, Ontario, celebrated her 18th birthday last January 18 with a formal dinner-dance at the Shawnee Room in the Stage West Hotel in Mississauga. Celeste was the recipient of the "Outstanding Student Award" from the Zamboanga Hermosa Canada at its Fiesta Pilar celebration last October.
---
A Las Vegas reunion for ZGHSN Class '62
Class '62 of the Zamboanga General Hospital School of Nursing held a rollicking reunion party at the residence of Dr. and Mrs. Rene Vicente (nee Ditas Intig) in Las Vegas, last October 19.
Twenty-five members from different parts of North America were present with their spouses and friends in tow. With paid entertainers to help liven up the party, the group enjoyed the moonlit evening dancing on the Vicentes' spacious terrace overlooking the glittering cityscape of Las Vegas, eating a sumptuous buffet dinner and chatting non-stop with former classmates, some of whom had not seen each other for forty years. A surprise number was the Muslim dance performed by the charming hostess, Ditas Intig, who was costumed as a Tausug Princess. Irrepressible Linda Fernandez Skinner drew cheers from the crowd as she performed a striptease dance with flashing lights on her breasts.
Elnora de Vera Timpauer, organizer of the event, sums up their reunion with this statement: "A very memorable and heart-warming get-together for a special and the best class of ZGH. Twenty-two classmates flew in from Canada and the U.S. to recollect fond memories of forty years past. It was a fantastic time for all; food was superb; entertainment excellent. We rejoined the next day for brunch at Dr. and Mrs. Rene Vicente - more delectable dishes and joke swapping to culminate a perfect class reunion. We plan to meet again in 2004, God willing."
ZGHSN Class '62 members present were: Bernardita Intig Vicente, Delfin and Violeta Fernandez, Floridel Arañez Manuel; Perla T. Reyes, Cecilia Jimenea Kolmegies, Sarah Baconga Casiple, Eulampia Halasan Knoblach, Aida Enriquez Nano, Rosalinda Fernandez Skinner, Florinda Falcasantos Gloss, Gloria Javier Guerrero, Aurelia Macrohon Paladio, Fredeswinda Gonzales Duntugan, Teresita Evangelista, Violeta Maglangit Joki, Felicidad Nisperos Puno, Ester Ko, Rosemarie Zamorano, Elnora de Vera Timpauer and Elisa Bucoy Wight.
The Peppy Class '62 of the ZGHSN
Part of the happy Class '62 of the ZGHSN: (standing, left to right) Sarah Banconga Cuciple, Visminda Gonzales Duntugan, Olimpia Halasan, Floridel Aranez Manuel, Violeta Arat Fernandez, Delfin Ferandez, Teresita Evangelista, Perla Reyes, Violeta Maglangit Joki., (seated) Rosalinda Fernandez Skinner, Rosemary Zamorano, Cecilia Jimenea Kolmegies and Elnora de Vera Timpauer,.
The Margos Group
Former residents of Margosatubig, Zamboanga del Sur, got together for this photo. They are Dr. Rene Vicente and his wife, the former Ditas Intig , who hosted the reunion, Victoria Bucoy Johnson, Elisa Bucoy Wight, Aida Enriquez Nado, Violeta Arat Fernandez, Nenang Intig Rubio, Cely Bucoy Campbell, Aida Elago D'Orazio and Rafael Rubio.
The Muslim Dance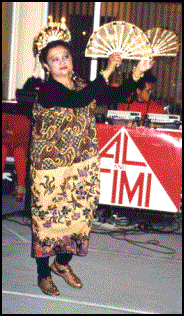 Hostess Ditas Intig Vicente entertains former classmates with a charming Muslim dance.
---
Zamboanga Hermosa Canada celebrates Fiesta Pilar
Zamboangueños and their friends celebrated Zamboanga City's "Fiesta Pilar" last October 12th with an enjoyable dinner-dance held at the EMBERS banquet hall in Scarborough. The occasion was also a celebration of Zamboanga Hermosa Canada's 16th anniversary.
Before the sit-down dinner, Deacon Cesar Sahagun delivered the Invocation followed by the Welcome Address by Cecile Jimenea Kolmegies, chairperson of the event. For entertainment, two well-known singers, Ely Torrenueva and Crystal Sahagun, thrilled the audience with captivating songs. Emcees were Ben Bernardo, ZHC vice-president for Hamilton, and Maricor Barrios Nery.
Highlight of the evening was the awarding of plaques to deserving members of the association by former Mayor Barbara Hall and assisted by the ZHC president, Aida Elago D'Orazio. Those awarded were: Celeste Diamos, for "Outstanding Student". She also received a cash prize of $200. Voltaire de Leon received the plaque for "Meritorious Award" for his contribution in the field of drama and literature, while Carlos Cabrera received the plaque for "Meritorious Award" for contribution in the field of music. Appreciation awards were given to Pilar Miguel and Ramon Barrios, for their dedication and service to the community.
Former ZHC president, Art de Vera, and his committee, Dick Fernandez, Mike Saavedra, Julie Rodriguez and Perla Reyes, did a good job in selling raffle tickets as fund-raising for six scholars in Zamboanga City. The three top prizes claimed were: 25" Prima colour stereo TV, lst prize; KOSS DVD-karaoke, 2nd prize, donated by Ramon Barrios; DANVY microwave oven, 3rd prize, donated by Eastview Travel Agency. There were also door prizes that were given away to lucky ticket holders.
Earlier in the day, the last day novena for Our Lady of the Pillar, followed with a Mass by Father Rudy were said at the parish church of Blessed John XXIII on Gateway Blvd. in Don Mills. The religious celebration was chaired by Marie Zamorano James.
The association will hold a spring dance, a fund-raising event for its Medical Mission to Basilan City, on April 5th next
ZHC Awardees
Former Toronto Mayor Barbara Hall, second from right, presented plaques to (from left) Voltaire de Leon for his contribution in the field of drama and literature; Ramon Barrios for appreciation; Celeste Diamos, outstanding student; Pilar Miguel for appreciation. On the right is Zamboanga Hermosa Canada president, Aida D'Orazio. Not in the picture is Carlos Cabrera who received an award for his contribution in the field of music.
---
Fort Santiago
A Play in Two Acts
Voltaire R. de Leon, a Zamboangueño with many talents, is inviting everyone to come and see his brainchild – a play entitled Fort Santiago – at Theatre Passe Mureille, 16 Ryerson Ave., Toronto, on June 20th to 30th, 2002 (Tuesday – Saturday at 8 p.m.; Sunday – 2 p.m. & 8 p.m.). Cost of ticket is $15. Box Office: 416-504-7529.
According to De Leon, the prison which held many Filipino patriots before being led to their execution, including the nationalist writer Rizal, Is Fort Santiago. It is the central metaphor in this play's study of power: how we become subject to it and the ways we recover freedom.
He further explains that "the play tells the story of four people from the Marcos fascist era and the quasi-democratic rule that followed his overthrow. To the political speechwriter, the truck driver, the arachist and the houseservant in prison and out of it is posed the overriding question as they seek escape:'What does it mean to be free?' "
De Leon is a playwright and fiction writer and creative director of Diwata Works, a theatre, literary and arts company. He has written various journalistic, literary and dramatic pieces since the 1980s. More recent scriptwriting credits include plays: Fort Santiago, on prisoners, 1998; Newcomers, on refugees and immigrants, 1997; Sarah's Story, Alos 2, 1995; Fair is Fair, (collective) on barriers to equity, 1992; Alos, on immigrant union activist/writer Carlos Bulosan, 1991. His short story The Woman Everyone Liked won the 1993 Toronto Star Short Story Contest. He is a Job Developer and ESL Instructor with the Toronto District School Board.
---
An ex-GI's search for a Pinoy family
Harpen finds his friend in Virginia
By Alberto M. Alfaro
WASHINGTON D.C. - This is the remarkable story of an American World War II veteran who had sought for years to contact a family who have been very hospitable and friendly to him when he was with the American liberation forces in the Philippines in 1945.
After a long search for a family 10,000 miles away, in the other side of the world, this American veteran found the sole surviving member of that family not in the Philippines, but in the United States.
The American is Walter "Wally" Harpen, of Wilmington, Ohio and the family he was looking for was my family, the Alfaros of Tetuan, Zamboanga city. After 57 years, Wally, who is now 77 years old and a businessman in the Midwest, was able - via the Internet -- to trace our family, or whatever is left of that family.
What is very remarkable about his search is that despite all these years, Wally still remembers all the names of my brothers and a sister, all of whom are now deceased. He remembers the name of the street where our old house was located and cites the names of several of my first cousins, also surnamed Alfaro. And he has a picture of our old house in Tetuan, Zamboanga city and a collection of letters written to him by my sister, Amelia.
Wally revisited the Philippines in 1994 but skipped Zamboanga city because of the US State Department warning against travel to the area.
The Internet was the handy tool that Wally used to track me down. Late last year, he spotted the website of the Ateneo de Zamboanga's alumni association led by Ms. Baybee Macasinag. He immediately contacted her via e-mail as well as Zamboanguenos now residing in the West Coast. He asked Ms. Macasinag for the name of the Tetuan Catholic Church where he used to go church under then Fr. Rello and about the Alfaro family in that town.
In his e-mail to Ms Macasinag, Wally wanted to know the whereabouts of my brothers Armando and Nickie (Benigno) and my sister Amelia. And my cousins Alicia, Pat etc. "The girls were beautiful... Baybee (Macasinag) I really appreciate your help.... I have already talked with the Zamboanga people in California...Mr. Joey Lu was most helpful...I hope the new Americans in Zambo (the American soldiers participating in Balikatan 2002) behave better than their grandfathers...Zambo and Basilan are on our TV quite a lot of late. I wish there was more coverage of Zambo."
Wally explained to Ms. Macasinag that during World War II, he was an American soldier whose tent was facing Fort Pilar. "I was enthralled with the beautiful people of Zambo and became friends with many, among them the Alfaro family of Tetuan whose home was on Falcatun (Falcatan) St ( hope my spelling is OK ).
"At any rate I have many fond memories of your great place. For your info my daughter‑in‑law is from Quezon City, a grad of UST, I have six grandsons who are Filipino‑Americans, so I'm proud to say I am still connected with the Philippines.
"... I would love to communicate with the Alfaro family. I remember sons Armando, Benigno (Nickie we called him),daughter Amelia, if still alive they would be elderly (like me). I lost track of them late in the war...a great family.I would appreciate any ideas‑. Thanks again for the information."
In reply, Ms. Macasinag promised to help look for the Alfaro clan, adding that Tetuan in Zamboanga city is a small place.
After several exchanges, Ms. Macasinag gave Wally the name of my niece, Annibel Alfaro who works in a government office in Zamboanga city. Then Annibel contacted me.
Sometime in February, Wally contacted me by e-mail. I was impressed because he remembered all the names of my brothers and sister and cousins but I wasn't sure because he did not mention my name and I don't remember having met him.
But my niece Annibel assured me that Wally was indeed referring to my family. She said she gave Wally my name, e-mail and postal address in Virginia.
Wally then sent me this e-mail: "During WW2 I became friends with your family in Tetuan, as I was an American soldier in Zamboanga at that time. I have been in contact with the Ateneo and they have been kind enough put me in touch with Mary Annabelle your niece.
"I wished to find out what had become of my dear friends, Amelia (Mellie), Armando and Nickie, your sister and brothers I believe....Annie told me that they were all deceased. How sad, please accept my sympathies. I was befriended by your father, a fine gentleman. I spent many pleasant days at your home.
"My son Martin is a doctor of medicine down in Suffolk, Va, his wife my daughter‑in‑law was the former Charity Elenita Ferreol of Manila, so I have five grandsons who are Filipino‑ Americans. so I do have a Philippine connection, I am happy to say.
"I have never forgotten my days in Zamboanga, and hope to hear from you about your family....I visited the Philippines in October 1994, spending most time on Leyte , Manila and in Pampanga. I couldn't visit Zambo as we were discouraged to do so by our Dept of State. I hope things will change."
After apologizing for my lack of recollection, I started communicating with Wally. One of the reasons he did not mention me was that I probably did not have a chance to meet him. Besides, I was the only one in our family who did not play the piano, an instrument that Wally likes.
I told him I would publish in the "Manila Mail" about his search for my family. Asked why he did not stop looking for my family, Wally said: "The whole story hinges on my intense desire to discover what had happened to your family and to Zamboanga as well. You know I loved the people there, and never lost interest in their fortunes. I was always frustrated by lack of information on Zamboanga until the computer made it all possible."
Wally promised to send me some of his old mementos, including a picture of our house in Tetuan, letters from Amelia and other treasures he had kept.
In closing, he said "Amelia, Armando and Benigno and your father and mother were wonderful people. Your's was a great family. Your dad told me one time that his high school diploma was handed to him by General John Pershing, he was very proud of it."
(Note: Bert Alfaro is the editor-in-chief of The Manila Mail, a fortnightly Filipino newspaper published in Washington, D.C. He left Zamboanga in 1955, came to the U.S. with his family of six children in 1975 as Philippine News Agency bureau chief in Washington, D.C. His wife, the former Mila Reyes, passed away last July 2001. He has 11 grandchildren.)
---
Sounds from Toronto
By Aida Elago-D'Orazio
April 3, 2002 - What a welcome! Arriving at 6:05 this morning from Los Angeles, I simply couldn't believe it: seeing this city covered with snow after three winter months of record-breaking mild weather! We've had the warmest winter on record. Golf courses were open, and people went around in their light jackets and sneakers. But, today, the second week into spring, there's nothing here to indicate that spring has sprung.
I found my two-week sojourn in California a fun-filled reunion with three groups of people close to my heart: my Philets pals from U.S.T. (one has arrived from the Philippines, one lives in Santa Barbara and the other in San Jose); my two bridesmaids at my wedding (Sonia Salvador Jekums and Marielou Ledesma Meierhofer, visiting from Zurich with her husband August) and my sister Celly and brother-in-law Rene Fuentes and their family, who live in L.A.
How time flies when friends get together! Travelling together in a van for a day's tour of San Francisco... posing for pictures... watching the dolphins romp in the ocean and the sea lions loll lazily on the rocks in Monterey... enjoying the scenic ride along Big Sur - a seemingly endless panorama of blue skies and waves lapping against craggy rocks... while endlessly gabbing about silly stories and giggling over them. Ah, precious moments that will always be remembered!!
I learned from Sonie Jekums that Zamboanga Hermosa of Southern California will now have its own Website constructed by Jun Illustrisimo with the help of Jung Aberilla. She and its president Elvin Smoyer will also have a hand in it. That's wonderful! Let's hope that other Zamboanga organizations in the U.S. and other parts of the world will follow suit so we can all link up. With just a click of the mouse, one will be able to visit other sites as well.
Fear of flying as a result of September 11 hasn't the least affected the wanderlust in many of our compoblanos. To mention a few: In Hamilton, Floridel and Oscar Manuel with a group of eight other Zamboangueñas will be leaving on a pilgrimage to Lourdes and Fatima in May; In L.A., Ritchie and Ted Jekums, who have just returned from a trip to Tahiti, will leave for the Philippines; Farnie and Pat Luistro, who were stranded in London on 9/11, plan to take the Panama Canal cruise; Bella Agustin wants to visit the Canadian Rockies; Celly and Rene Fuentes are going to China to get a glimpse of the Yangtze River before it's closed to tourists and in Edmonton, Celina Marcos Dizon has left for Zamboanga to visit her ailing mom.
Zamboanga Hermosa Canada will open its arms to welcome newly arrived Zamboangueños at its picnic on July 27. It is planning some special activities for them. Greg Verar and Ben Bernardo, who are in charge of the potluck picnic, have announced that the community's directory, which has been finally updated, will be distributed to the members on that day. Chairman of the Fiesta Pilar celebration, Cecile Jimenea Kolmegies, also announced that the dinner dance on October 12th will be held at the Embers in Scarborough. Aside from its ongoing project of providing bursaries to six college students in Zamboanga City, the ZHC, starting this year, will award outstanding children of Zamboangueños in Ontario, who excel in their high school and college studies. Meanwhile, ZHC secretary Vilma Arquiza Clemente is busy preparing the letters to be sent to all the members of the organization to make sure that they know that their attendance is very much appreciated in these events.
Hopefully, now that Jung Aberilla has patiently shown me how to enter the El Mensajero Website, I'll be able to update this page regularly. To you, readers, please get in touch. Manda noticias de cosa man camo ta hace entre maga Zamboangueño alli.
At Peralta Hills, Orange County
A busy realtor wherever she goes, Sonia Salvador Jekums answers the cell phone while in the company of friends, Arlene Bryan Valdes, Marielou and August Meierhofer. The Meierhofers live in Zurich, Switzerland.
Reunion with a Sister
We enjoyed sunny California in the company of sister, Celly Fuentes, her twin daughters Celeslie Crane and Celeste Sanders, and daughter-in-law Julie Fuentes.
At Le Biftheque House
Julie Quintas Rodriguez (front, left), visiting from Palawan, was feted at downtown Toronto's Le Biftheque House on the occasion of her birthday by friends, Perla Reyes, Cecile Kolmegies, Maria Clara James, Nenita Laviña and Sylvia Tallud last February.
Outstanding Award
Art de Vera accepts the award for Outstanding Service to the Community from Zamboanga Hermosa Canada president, Aida Elago D'Orazio, at last year's celebration of Fiesta Pilar at the Holiday Inn Select. Art was past president for four consecutive years.
Vamos a Zamboanga
Dr. Rosemarie Climaco, as guest speaker, extols the city of Zamboanga in her powerful speech at the induction of the newly elected officers of Zamboanga Hermosa Canada.
Other Zamboanga and Mindanao Links
Dapitan